KITCHEN HACKS FOR VEGANS IN A HURRY
Tips to make your time in the kitchen count.
VEGAN WHOLE FOOD HEALTH COOKING
After a few years of vegan cooking adventures, I decided to write down the tools I use regularly to make life easier. Being vegan for health reasons, my goal is to have fresh - made from scratch meals. Elimination of processed foods is part of the trick to keep control over our health. But making meals from scratch takes time. Michael Pollan says when we let corporations do the cooking for us; we accept all the shelf-life extending ingredients they add. In his website Mr. Pollan answers, "Most of us have hectic schedules and every minute counts. How do we find the time to cook? It's true, we're way too busy, and working longer and longer hours. But consider that, in the last decade or so, we've all found two hours a day to be online outside of work. So where did we get THAT time? The day is still only 24 hours long. The point is, we always find time for the things we value—and we've come to devalue cooking." (LINK)
So, we start by asking ourselves what we value. No-one can answer that for you but you. For me there's nothing more satisfying than a home cooked meal. Here I extent that value of caring through food to include sharing with you – my community. This is the personal. There are also scientific reasons for whole food plant-based cooking. But, that is for a different blog.
I'm here to tell you about practical steps (or hacks) in the kitchen. There are many ways to make meal prep if not shorter, at least shorter time tending to things in on the stove or in the oven. This is a short list of my most frequently used kitchen hacks.
SET IT AND FORGET IT
Set it and leave it techniques include using a Pressure Cooker, sous vide (pronounced sue-veed), or a Crock Pot. There are several brands of pressure cookers. Any of them should give you some choices to program the pressure, temperature, and duration for cooking. I use my pressure cooker every week to make large batches of oatmeal for our daily breakfast. I also make soymilk yogurt to eat with berries for dessert.
For potatoes there's nothing easier than to set potatoes covered in water in a crock pot and leave it for hours. How long in the pot depends on the subsequent use of the potatoes. If you are making patatas bravas – around half an hour will keep your potatoes firm enough to cut into wedges and continue to cook with appropriate seasons. If you are making smashed potatoes, then they should stay in the heat for four hours on high to get well done. If you're in a hurry, use the pressure cooker. The combination of heat and pressure cuts cooking time. Place potatoes on a rack with one cup of water. Cook on high for 10 minutes and let natural release of steam. I do not have a sous vide (pronounced sue-veed). But if you do and use it, let us know how it works out for you. You can send me a message below.
PRE-CUT PRE-RINSE
Having pre-cut onions, garlic, and pre-rinsed greens, makes evening cooking that much faster. For onion I have two gadgets. One is wearing goggles to keep onion fumes from causing my eyes to tear up. The other hack is a manual multi-purpose food chopper. The one I use, NutriChopper, is very small and does not slice. But it does chop the onions into small cubes. It is very small, taking up very little room, and includes a container to place the cut onions in the fridge.
Pre-rinsing and drying lettuce and salad greens means I am more likely to use them up before they wilt. Rinsing lettuce is important because they grow close to the ground and often retain grit or bugs from the field. Due to bacterial or viral contamination on lettuce it is a good idea to give it a good cleansing soak. "Salad rinses are often designed to clean greens of dirt or chemicals, not bacteria, and are unlikely to kill harmful bacteria. (Consumer Reports - LINK) In these COVID-19 times, we can't be too careful.
Use a cleansing formula of one part vinegar and three parts water in a bowl. Place the loose lettuce or greens in the bowl for ten minutes. Then rinse in just water to reduce the taste of vinegar. Thorough drying by rolling lettuce in a dish towel or paper towel until there is no dampness.
Now that your greens are washed, there are several ways to store it the refrigerator to keep it fresh. One is to take the wrapped lettuce and place it in a plastic bag and put it in the fridge. The other is to use a container with a slotted liner to create a separation from the lettuce and the moisture. These are some of the best ways to keep lettuce leaves away from water to keep it from wilting till you are ready to use it.
But a better trick is to pre-make salad. I make enough for a week of fast lunches. It is more efficient to cut up all the carrots, celery, and greens one time instead of seven. Some ingredients will turn to water faster or brown. Cucumber and bell peppers turns to water overnight once cut. Avocado browns if not treated with lemon or lime. Nuts can get soggy when in contact with damp lettuce for several days. So, keep this type of add-ons in a separate bag until ready to use. If this seems like these steps take too much time, remember the goal is to have fresh food as often as possible. If you time is very limited, then just rinse and spin ingredients just before making your favorite salad to cut out the drying and storing step. Your salad will be just as good.
BATCH COOKING
Batch cooking is cooking for the week (or several days) and storing the food in containers as a meal – that is including a carb., a protein, and a veg. (and sometime a fruit). Instead of batch cooking, I just cook a lot whenever of whatever I make. I call it abundant cooking. I make a few staples for the week to include are one or two proteins, one or two sauces, a whole grain, and some vegetables. Then I mix and match to change the combination so that our meals are new and interesting. An example is my green smoothie. Whenever I make a smoothie, I make enough for two. I drink one then save the rest in the fridge. Next day, I have one already. Another example is to roast a bunch of vegetables all at once. Make sure the vegetables you select are about the same thickness, size, and cooking rate. When cooled, store them separately. At meal time make different combs such as: rice and roasted broccoli, or corn with beans, or roasted chili chickpeas over a green salad. There are so many combinations when you have the basic ingredients already in the fridge just needing ten to twenty minutes to warm-up and put together.
MAKE A PLAN
Sometimes I have a plan and sometimes I don't. I may just cook what needs to be used now, before it goes bad. The batches don't need to be that big. But if it is a big amount of a given dish, for example a big pot of beans, I freeze a portion knowing we will not get through the whole quantity in one week. This helps us prevent food waste.
Meal Plan – I recently started using an app to help me plan my week of meals. Mealime is a phone app available for iOS and Android. I like it because when I select a recipe, the app converts it to a shopping list. Then for cooking, each step is gets its own screen with the amount of each of the corresponding ingredient. I don't have to scroll back up to the ingredients list to how much of each item, or how to cut it. Again, doubling these recipes, means leftovers for another day.
CLEAN-UP
Cover your bake ware with something to keep the food from sticking to the bottom – even on non-stick surfaces. Reusable silicon is my preference. They are environmentally-friendly since they can be used over and over again. But regular parchment paper will work just as well. This barrier will cut down scraping time when the baking is done.
Thanks for reading. Share it with a friend. And let us know what you would like to know more about as you have vegan cooking adventures of your own.
Evelyn from Saludicious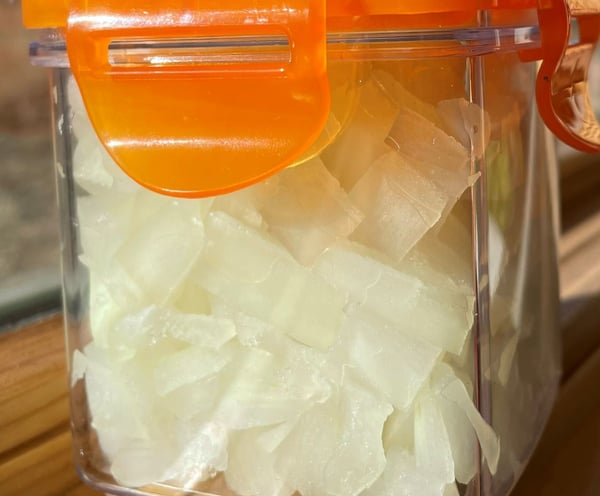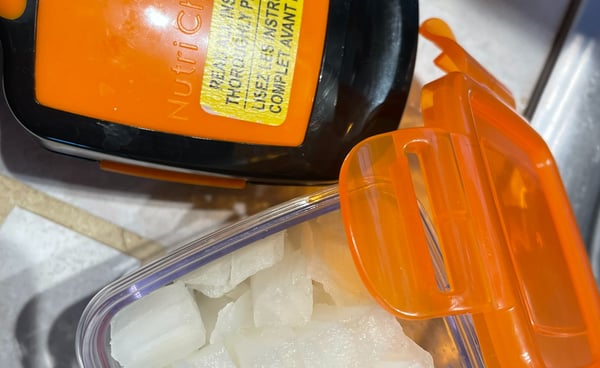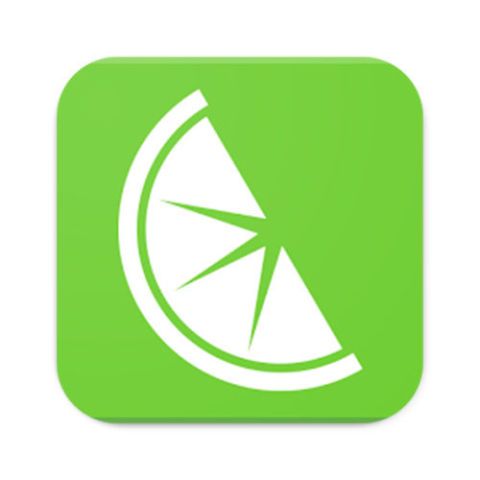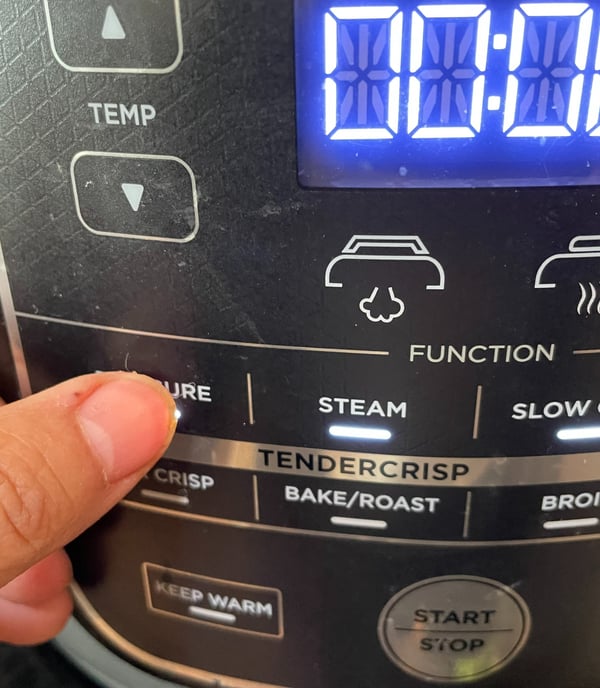 Chopped Onions in Container